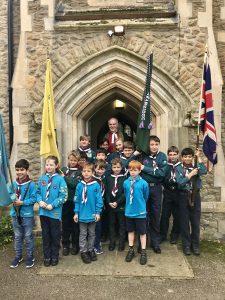 On Sunday 8th October, members from all three sections joined up for the Harvest Festival at the Weybridge United Reformed Church, Our home.
Our newly Inducted Minister, The Revd Michael Hodgson gave an informative and immensely enjoyable address which included a lot of 'Audience Participation' !!
Michael has a long history of working with Young People, from running a Boys Brigade to working with the Young Farmers of the Brecon Beacons. I know we will be seeing a lot more of Michael at our weekly meetings and we welcome him into our fold!
Michael, we wish you a long and happy stay in Weybridge and we all look forward to working with you.