4th Weybridge Scout Group
District – Walton and Weybridge
County – Surrey Scouts
Composition (2013)
1 Beaver Colony
1 Cub Pack
1 Scout Troop
Group Notes
The Group was first registered in April 1932 and was originally based at the now-demolished St Michael's Church in Pine Grove before relocating to the then Congregational (now United Reformed) Church Hall in Queen's Rd. It is still sponsored by the United Reformed Church and we meet at the Church Hall Thursdays for Cubs & Scouts, Fridays for Beavers.
Scarf
The Group scarf was originally plain maroon until the early 1970's, when the white border was added by the then Leadership team.

Nametape
Yellow letters on Scout green.

Scarf Badge
Approved by HQ on the 19th January 1989.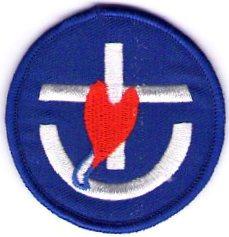 Awarded after three Church attendances, it can be earned in any section and is worn on the back of the scarf.
Design Information
A red heart with a white tail outlined blue, superimposed on a white cross with a white arc at the base, all set on a blue circle.
"The white cross signifies the Word of God. The bird represents the Dove of Peace and the red portion the flame of the Holy Spirit. The white arc at the bottom represents the world. Therefore the whole badge signifies a world at peace united by the Word of God."